Pendulum, tell me your messages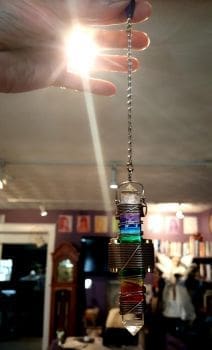 Listen to your intuition
In one evening, you learn all of what you need to do your reading with your pendulum!
You also receive your messages with your pendulum;
You find answers to your questions about your relationships, about the professional field, about business, etc.
You open your psychic consciousness and discover the subtle energies;
You develop your gifts and your psychic skills;
You are able to use your pendulum at any time;
Carry your pocket-guide wherever you go;
This training allows you to increase your level of confidence and your intuition.
Teachings offered:
Why and when to use a pendulum;
How to choose a pendulum;
Dowsing: How it works;
How to use a pendulum: A simplified approach;
How to take care of your pendulum.
Exercises:
Choosing a pendulum and exercices in using it;
Light work;
Grounding and group's energy;
Consecration of your pendulum.
Benefits provided:
Supports the development of intuition and strengthens it;
Stimulates mediumship and our creative power;
Allow to increase the level of self-confidence;
Way to receive answers to our questions;
Useful for readings, verifications, harmonizations and corrections of energies;
Encourages the right wording of intentions;
Practice our skill in clairvoyance;
Facilitates access to knowledge of the subconscious and of the superconscious.